My pesto addiction is something I can never get rid of. I love Pesto..I can have it on its own without mixing it with pasta or as a sandwich spread. Yes, I am a pesto addict!! This is the only way my daughter enjoys her dose of walnuts (she hates walnuts). This is a simple sandwich with pesto and bell peppers. You can customize it according to your preference. I have added coriander leaves also because I had very few basil leaves. I have also included cashews along with walnuts.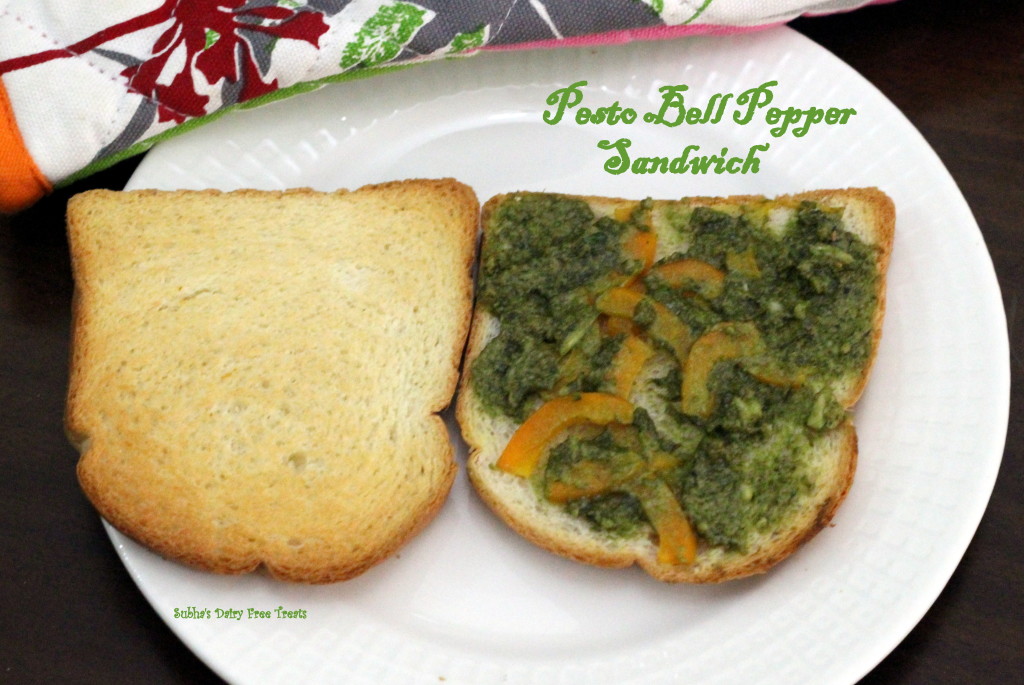 Ingredients for the pesto:
| | |
| --- | --- |
| Basil Leaves | 1 cup |
| Coriander leaves | 1 cup |
| Garlic cloves | 2 or 3 cloves |
| Lemon juice | 2 tbsp |
| Walnuts | 2 tbsp crushed |
| Cashewnuts | 1 tbsp crushed |
| Olive oil | 3 -4 tbsp |
| Salt | as needed |
Other ingredients: Sandwich bread slices and bell pepper strips.
Method:
Preheat the oven to 180 degrees.
Make the pesto by grinding the above mentioned ingredients coarsely. If you have nutritional yeast, you can add a pinch of that too. It actually gives a cheesy flavour similar to Parmesan and can be used as a substitute in dairy free / vegan cooking. You can add more olive oil of you feel that the mixture is too thick.
Spread the pesto on one slice of sandwich bread along with the bell pepper strips and toast it for 10 minutes in the oven. I just kept in in a cookie sheet and let it bake for 10 minutes. The bread was crunchy and perfect for sandwich then. Keep another slice plain and toast it too.
Remove from the oven and keep the slices together and enjoy as a sandwich.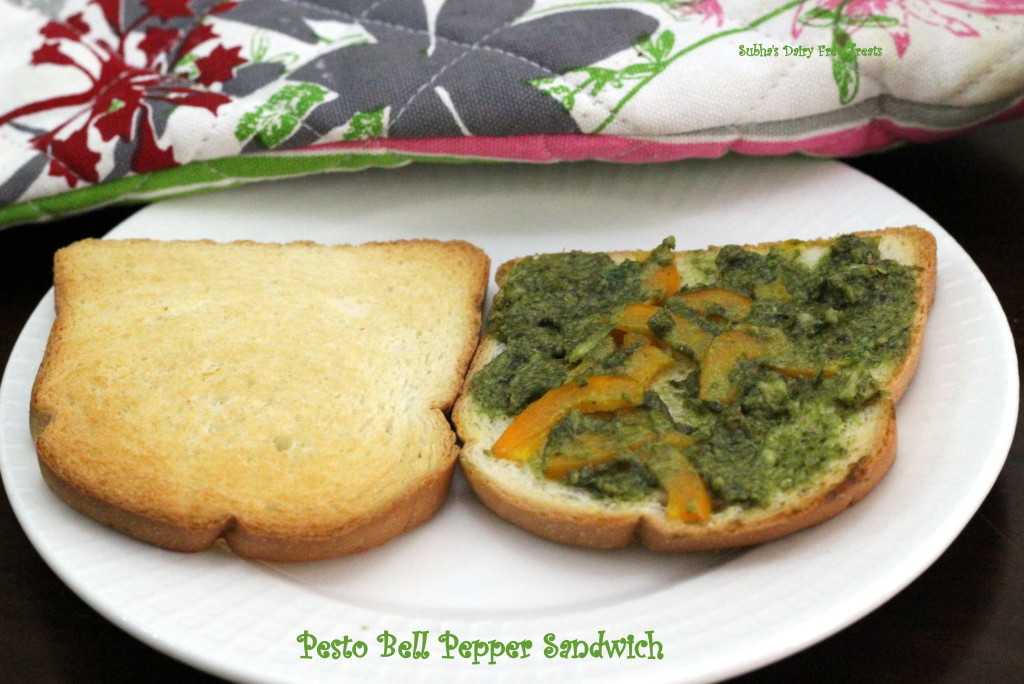 Hope you all liked this Pesto Sandwich. Please do not forget to try this and share those photographs
with me. Share your thoughts below and let's stay connected.