Ulli Theeyal is a traditional Kerala dish and one of my personal favourites. In this recipe, I have added Chembu (Taro Root or Colocasia) along with Ulli (Shallots /  Chinna Vengayam). Very flavourful and rich with the addition of roasted and ground coconut, this dish satisfies children and grown ups alike.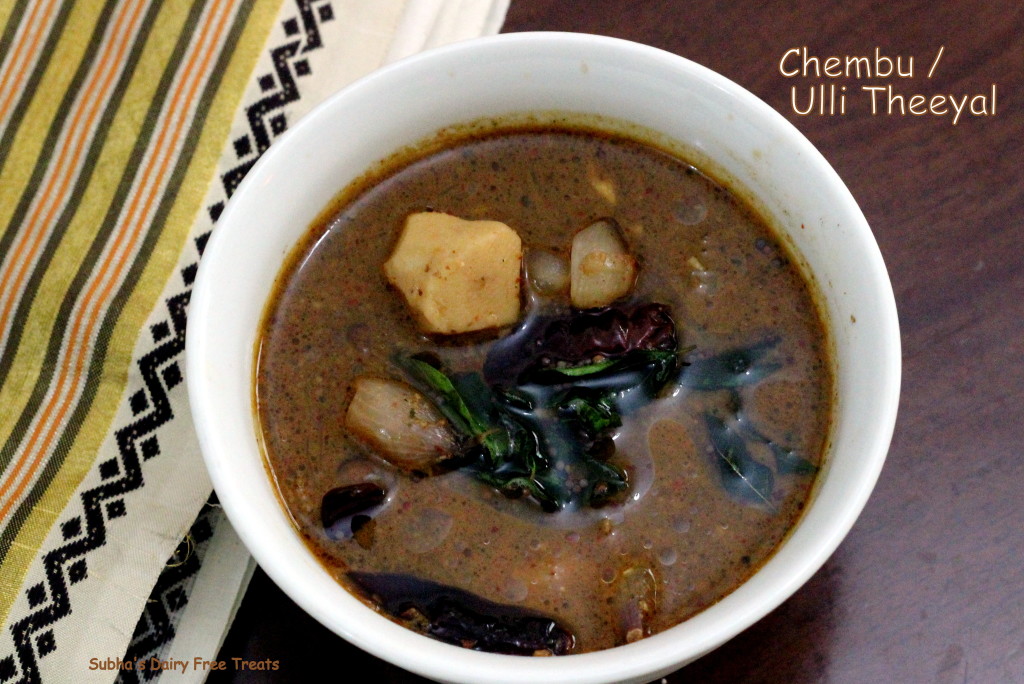 Ingredients:
| | |
| --- | --- |
| Small onions / Shallots | 15 -20 peeled |
| Colocasia | 10-12 small peeled |
| Tamarind | lemon sized |
| Red chillies | 4 or 5 |
| Coriander seeds | 1 tbsp |
| Fenugreek seeds | 1/4 tsp |
| Turmeric powder | 1/4 tsp |
| Mustard seeds | 1 tsp |
| Grated coconut | 1/2 cup |
| Coconut oil | 1 tsp |
| Curry leaves | as needed |
| Salt | as needed |
Method:
1. Soak the tamarind in water and extract its juice.
2. In a dry pan, add coconut and roast until it turns brown. Add coriander seeds, fenugreek seeds and dry red chillies and roast them too. Make sure they do not get burnt.
3. Grind the mixture with very less water as a thick paste.
4. In the mean time, add oil in another pan and add the mustard seeds, curry leaves, 1 red chilli and wait for the mustard seeds to splutter. After that add the shallots and saute on a medium flame until they become a little soft. Add the Colocasia pieces and then add enough water to it. Add turmeric powder and salt. Once the colocasia pieces are cooked, add tamarind extract. Allow to boil and let it lose the raw tamarind flavour.
5. Add the ground paste, mix well and simmer for 4 minutes until the coconut paste thickens a bit.
6. Serve hot with Rice and Pappadom.
I was in a hurry and could not take more pictures of this dish. I hope you like this recipe and would definitely try it in your kitchen.