This recipe is very close to my heart. It is one of the most popular breakfast items in Kerala and Tamilnadu. In Tamilnadu, Sevai is also very popular and some people make Idiyappam first and break them into small pieces and turn them to Sevai though it is not the authentic way of preparing that dish. My family likes Idiyappam to be accompanied by the tasty Stew. Stew is nothing but vegetables (mainly potatoes) cooked in coconut milk with ginger and green chillies. I just can't explain how tasty it is!! You have to experience it.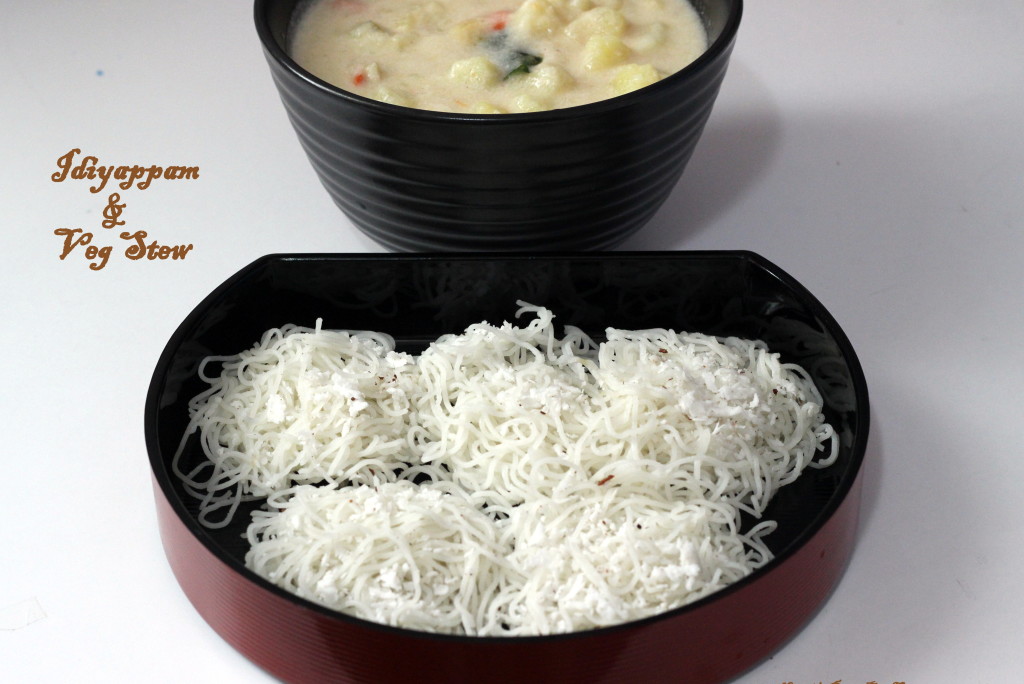 Ingredients for Idiyappam:
| | |
| --- | --- |
| Idiyappam Flour | 1 cup |
| Hot water | 1 1/4 – 1 1/2 cups |
| Salt | as needed |
| Coconut oil | 1 tsp |
| Grated coconut | as needed |
Method:
1. Make hot water in a pan and add salt to it. Add oil too. When it comes to boil, pour it into the flour kept in a big vessel little by little. Use a spoon to mix it as it is too hot. After the initial mixing, use your hands and make it into a dough.
2. Keep the Idli moulds greased at this point. Using an Idiyappam press, make the dough into Idiyappam shapes and put a little grated coconut on top of each Idiyappam. Steam them for 5 minutes. Idiyappam is ready!!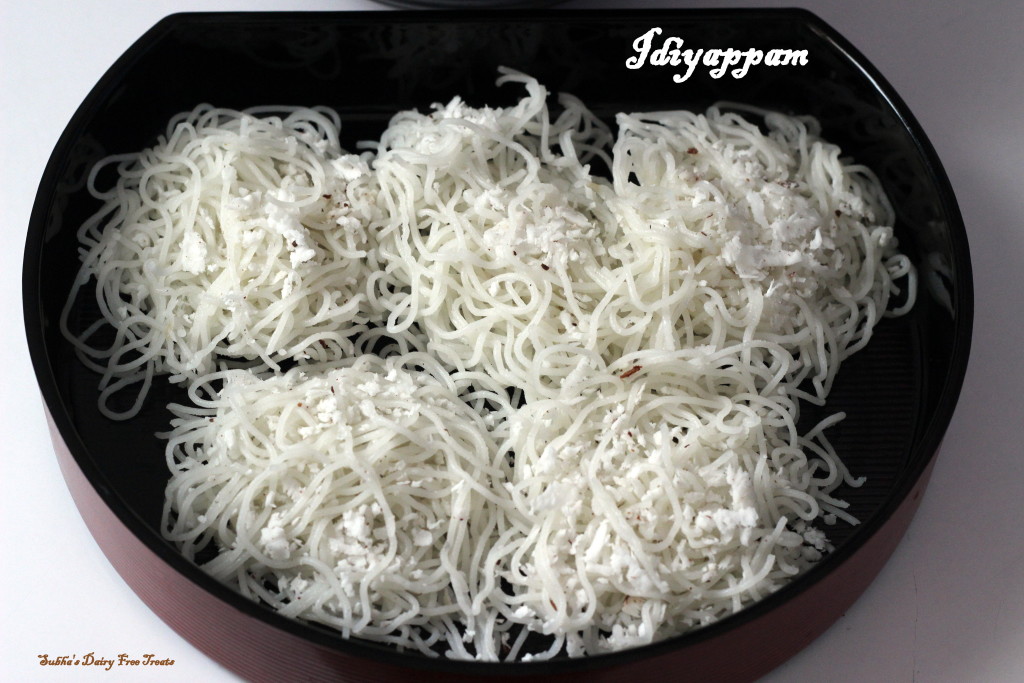 Ingredients for Veg Stew:
| | |
| --- | --- |
| Potatoes | 2 medium sized |
| Carrots | 1 small chopped |
| Thin coconut milk | 1 cup |
| Thick coconut milk | 1/2 cup |
| Sliced Ginger | 2 tsp |
| Sliced green chillies | as needed |
| Curry leaves | as needed |
| Salt | as needed |
| Coconut oil | 1 tsp |
Method:
1. Extract the thin and thick coconut milk from freshly grated coconut.
2. Chop the vegetables and boil them in thin coconut milk mixed with 1 cup of water. Add chopped ginger and green chillies to it and drizzle the oil on top as it cooks. The potatoes should turn a bit mushy. Add enough salt to it and once the potatoes and carrots are cooked well, add the thick coconut milk. Switch off the flame as soon as you add the thick coconut milk. Garnish with curry leaves and serve with hot Idiyappam.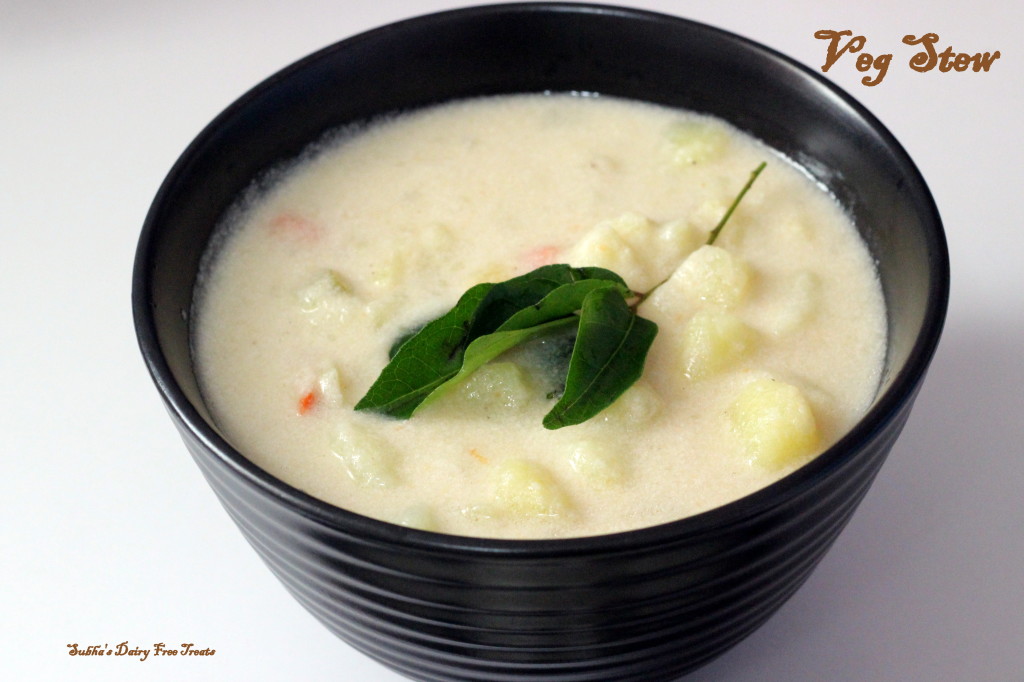 Your tasty breakfast combo will definitely be a hit. Absolutely no doubt about it!!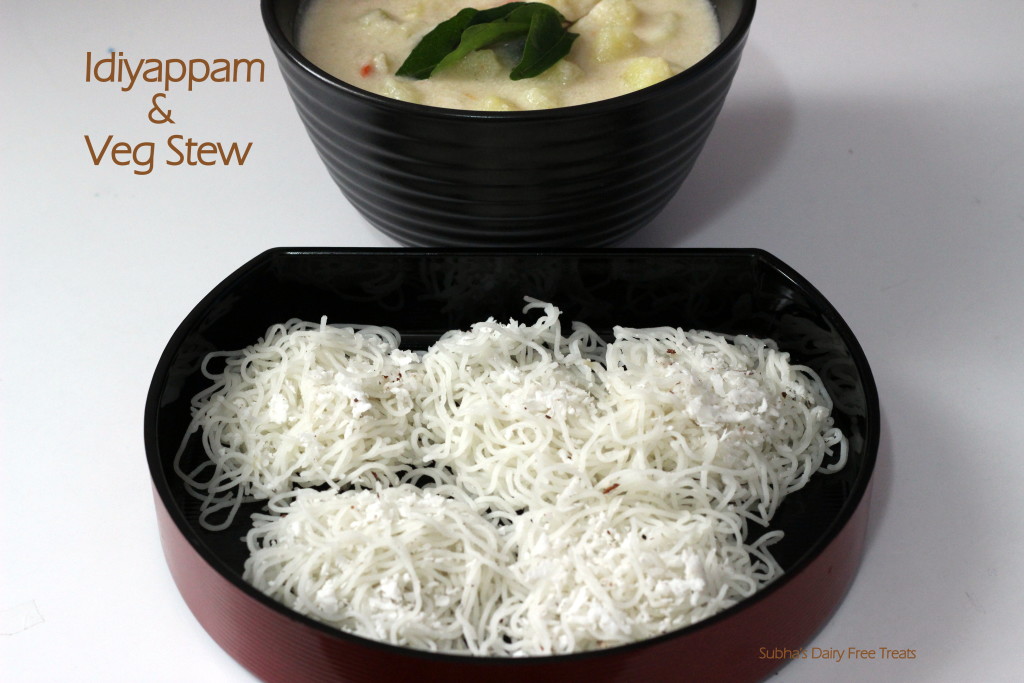 Hope you liked this recipe. Will you try this at home and let me know?