Dairy Free Chocolates?? R u kidding? This was my attitude until I saw Plamil dairy free chocolates at the Organic Foods and Cafe about 4 years ago. I was so excited and bought them for my daughter S. Ever since I wanted to try making chocolates at home. Today, I surprised my princess with these cute little chocolates with absolutely no dairy added. Try these at home and enjoy with your loved ones. The basic recipe is adapted from Gabby's blog but I had to make a few changes with respect to the ingredients and their quantities to suit my taste. As this recipe calls for coconut oil, be prepared to have super soft chocolates that melt quickly. Please feel free to experiment with the sweeteners as I did. You will have a little taste of coconut oil but I love it..What about you?? Try and let me know..Vegans can substitute Honey with Agave Syrup or any other vegan option..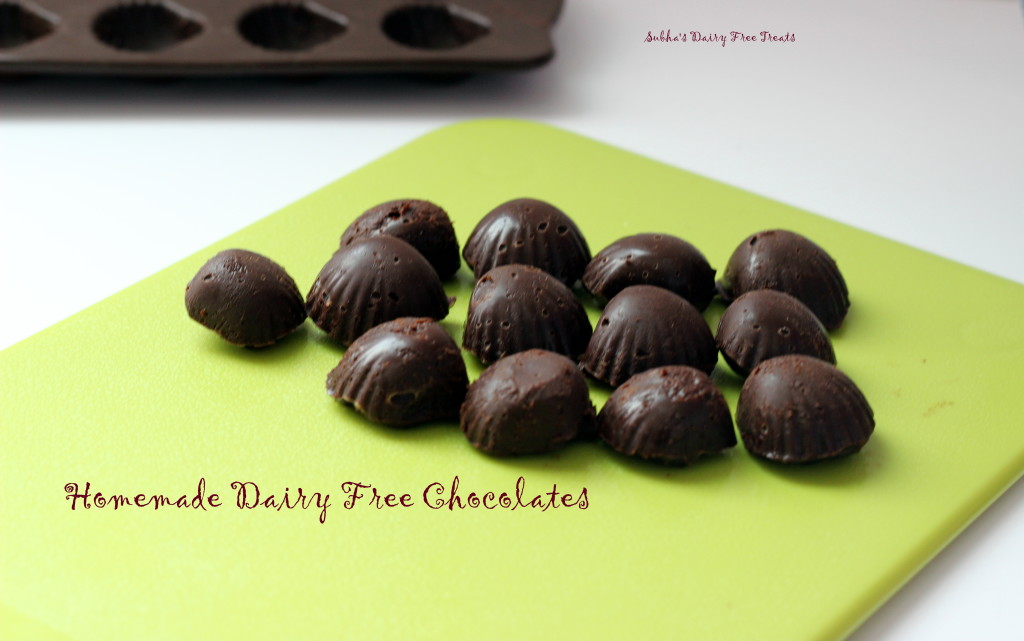 Ingredients:
| | |
| --- | --- |
| Coconut oil | 1/4 cup + 2 tbsp |
| Cocoa Powder ( I used Hershey's unsweetened) | 2/3 cup (10 tbsp) |
| Raw Honey | 2 tbsp |
| Date Syrup | 2 tbsp |
Method:
1. Take a mixing bowl. Pour in the coconut oil. If you have it in solid state, melt it a little. Do not heat it too much. I had coconut oil which is normally in liquid state. Hence I did not have the melting job.
2. Sift in the cocoa powder, pour in the honey and date syrup. Whisk, whisk, whisk…until you get a liquid mixture without lumps. I promise to upload the step wise photographs next time I make this.
3. If the mixture is a bit hard after adding honey (as mine), feel free to add 2 more tablespoons of coconut oil.
4. Pour the mixture into the moulds. Shake and level them to avoid air bubbles (I did not do that step properly. I was too impatient and was too curious to know the outcome) and freeze them for about 20-30 minutes.
5. Ready, Steady, Go…Take the mould out of the freezer and enjoy…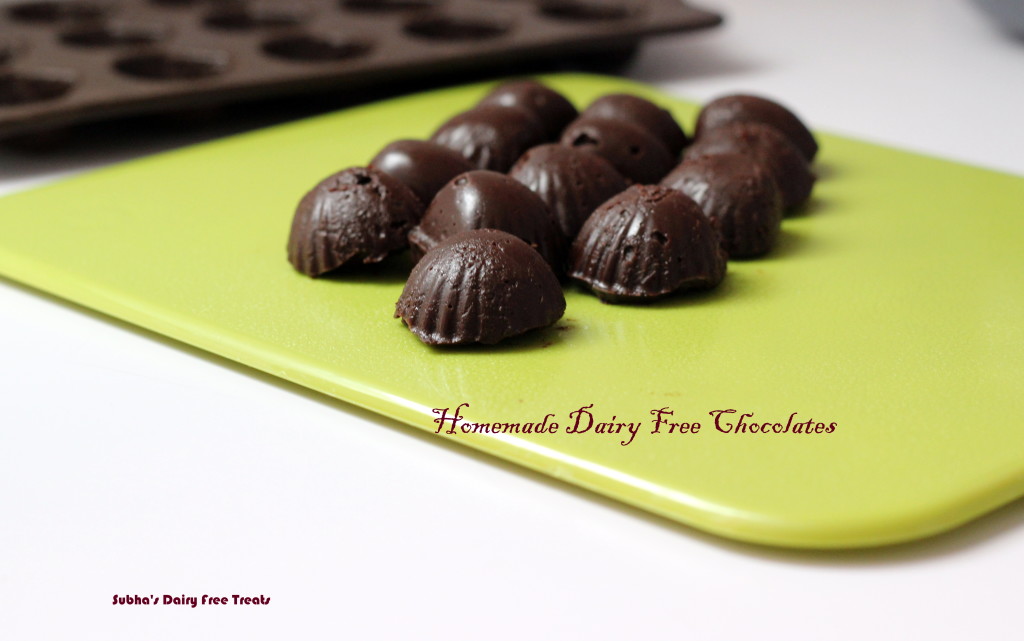 Sending this recipe to Gloria's Favourite Recipes event initiated by Swathi of Zesty South Indian Kitchen. This is also one of my entries to the contest happening at My Kitchen Odyssey in connection with its first anniversary celebrations.
Note: If you do not have a mould, you can pour the mixture on to a baking pan and cut them into big chunks once they are done.