I am back to blogging after about a week..My daughter's school reopened after the summer holidays and I was busy getting her settled with the school routine after 2 months…Some of my readers asked me why I did not  post anything since last week. This is the reason. Now things are under control and I am back here!!!
Though I am not an expert in baking, I do like to try certain recipes which are simple and delicious. Here is one such recipe..I had seen savoury buns with red chilli flakes on Rak's kitchen some time back. I thought of using Jalapeno peppers instead of red chilli flakes in the recipe. I always keep spicy jalapenos at home as we love them in our sandwiches. These buns were really tasty and got over in no time..
Ingredients:
| | |
| --- | --- |
| All purpose flour | 1.5 cups |
| Active dry yeast | 1 tbsp |
| Coconut milk | 1/4 cup + I tbsp |
| Water | 1/4 cup + 1.5 tbsp |
| Olive oil | 1/8 cup |
| Chopped jalapenos | 1 tbsp |
| Sugar | 1/2 tbsp |
| Salt | 3/4 tsp |
| Chopped garlic | 1 tbsp |
| Chopped coriander | 1.5 tbsp |
Method:
1. Mix the coconut milk and water and slightly warm it up. Do not boil or make it too hot as it would deactivate the yeast. Add sugar and yeast to that and keep for 5 – 10 minutes.
2. In a mixing bowl, add the flour and make a dent in the middle. Pour in the milk – yeast mixture into it. Also add the oil, salt, chopped jalapenos, garlic and coriander and make a soft dough. Cover it with a cling film and let it rest for an hour.
3. After an hour, knead the risen dough again and make 6 equal sized balls. Arrange them in a greased baking tray.
4. Preheat your oven to 190 degrees. By this time, the dough would have risen a bit more.
5. Bake the buns at 190 degrees for 13 – 15 minutes. Check with a fork or toothpick if it is done. If the tooth pick or fork comes out clean (without the dough sticking to it), then it is done.
This is how my lovely buns looked when they were out of the oven. I brushed a little olive oil on top.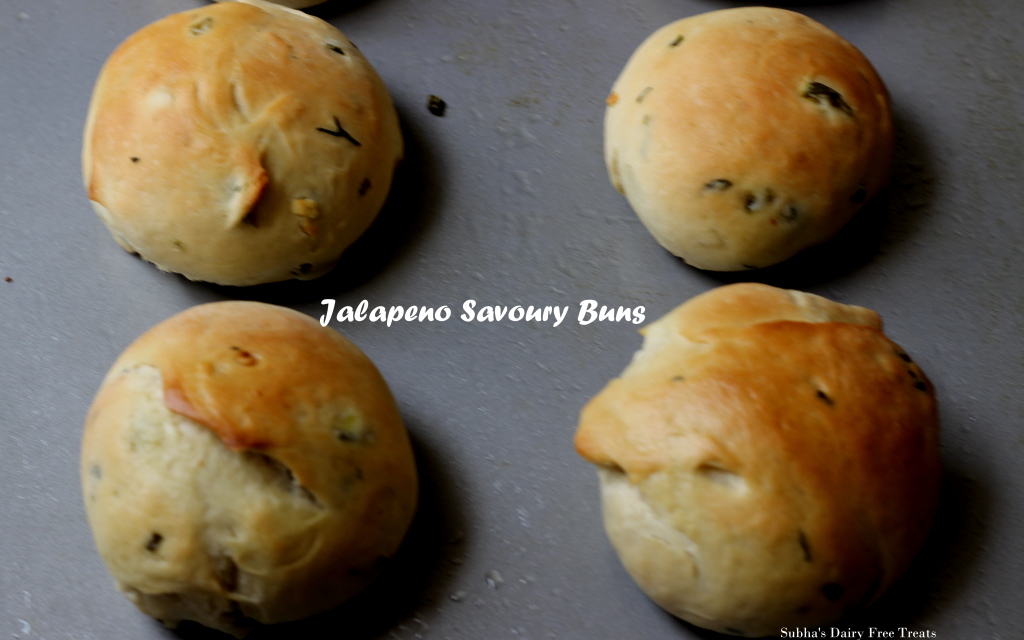 6. Enjoy with your favourite drink..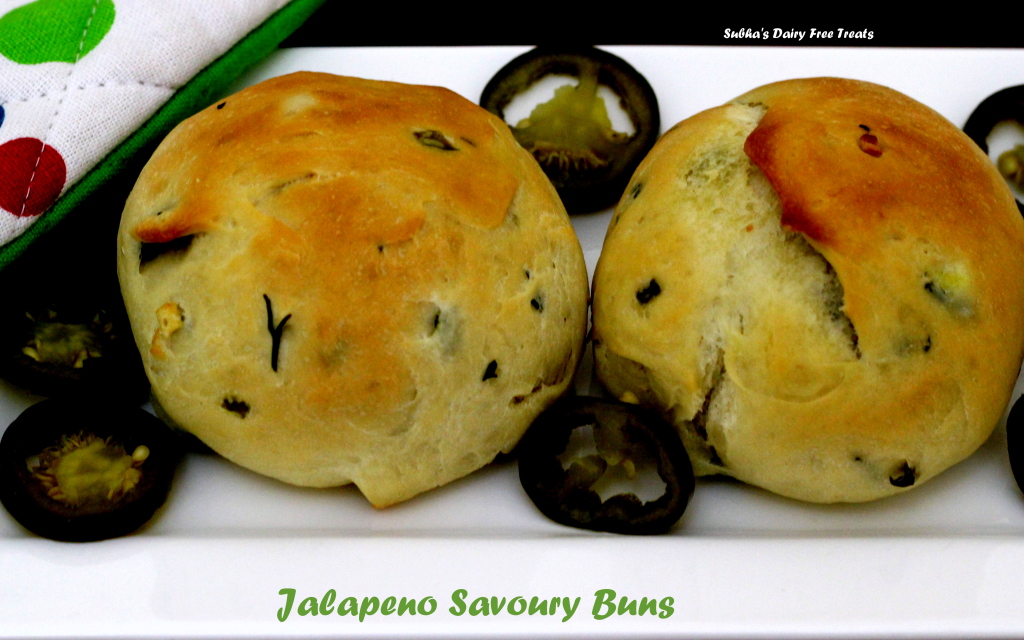 Please try this recipe and let me know your comments…Your feedback is what keeps me motivated.. Sending these lovely buns to Gloria's Favourite recipes event initiated by Swathi of Zesty South Indian kitchen and Sathya's first anniversary event.