Today's post is a very interesting one and it might be really exciting for people who follow a dairy free or vegan diets.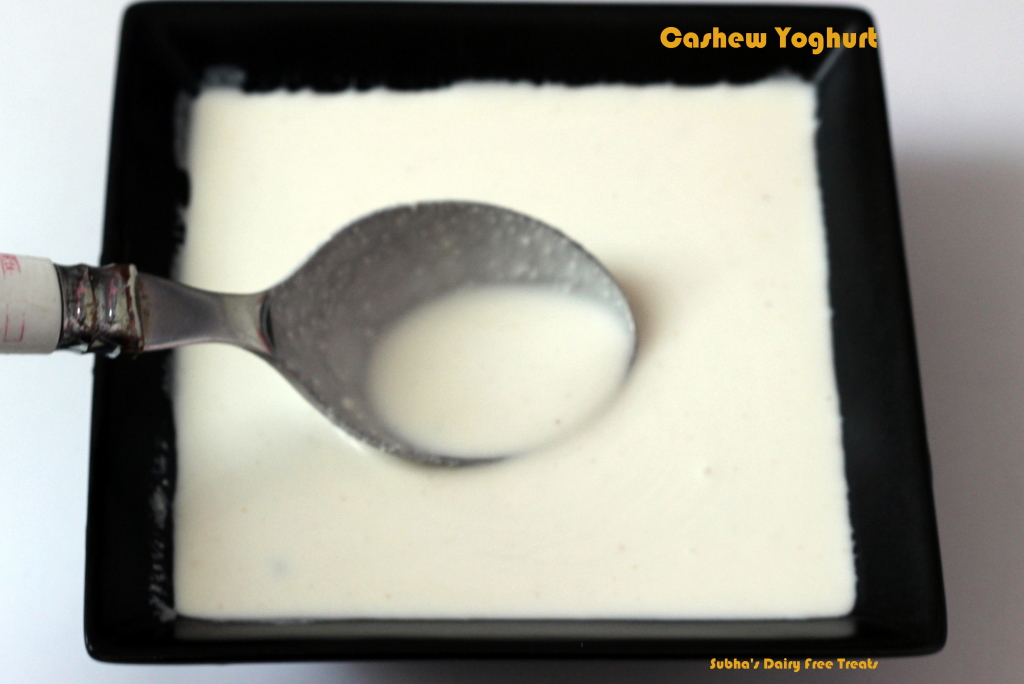 When I read about this amazing discovery on Harini's Tongue Ticklers, I was literally jumping with excitement. I had never ever thought that this would be possible – Yes, making yoghurt / curd from cashews using our humble green chilli crowns..No other starter needed!!! Yes, you heard it right.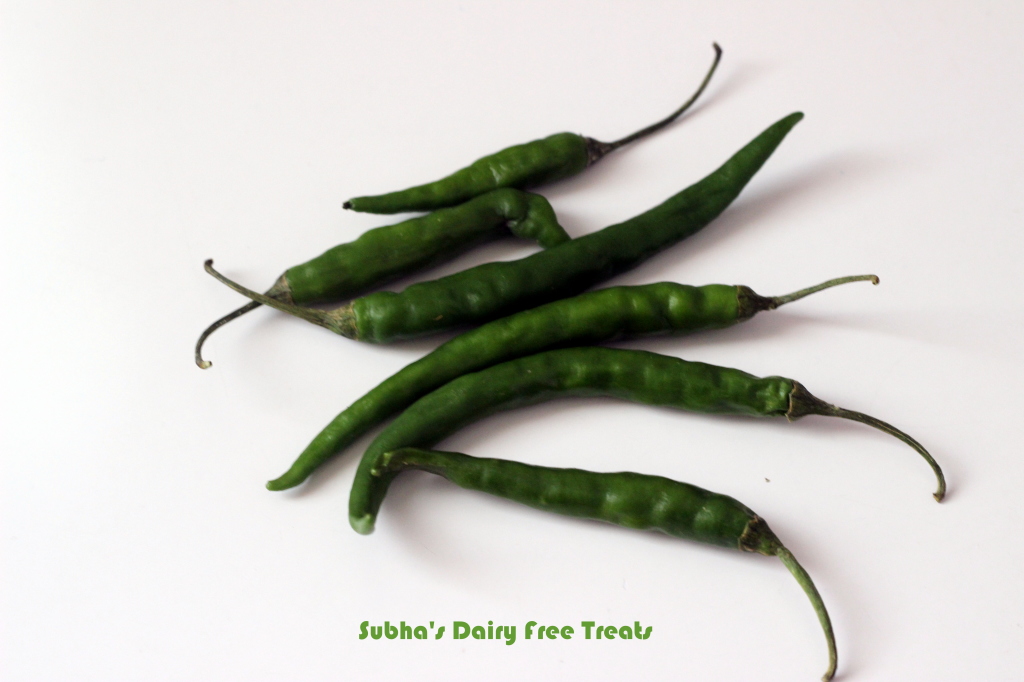 Being a South Indian, we had grown up eating curd rice and drinking buttermilk. But we have been following a dairy free diet at home for the past 7 years and I am deeply indebted to Harini (I really mean it) for introducing such a great alternative which could be easily made at home. It works out to be economical too. The starter used for this preparation is just the crowns (the top part) of green chillies that we normally discard.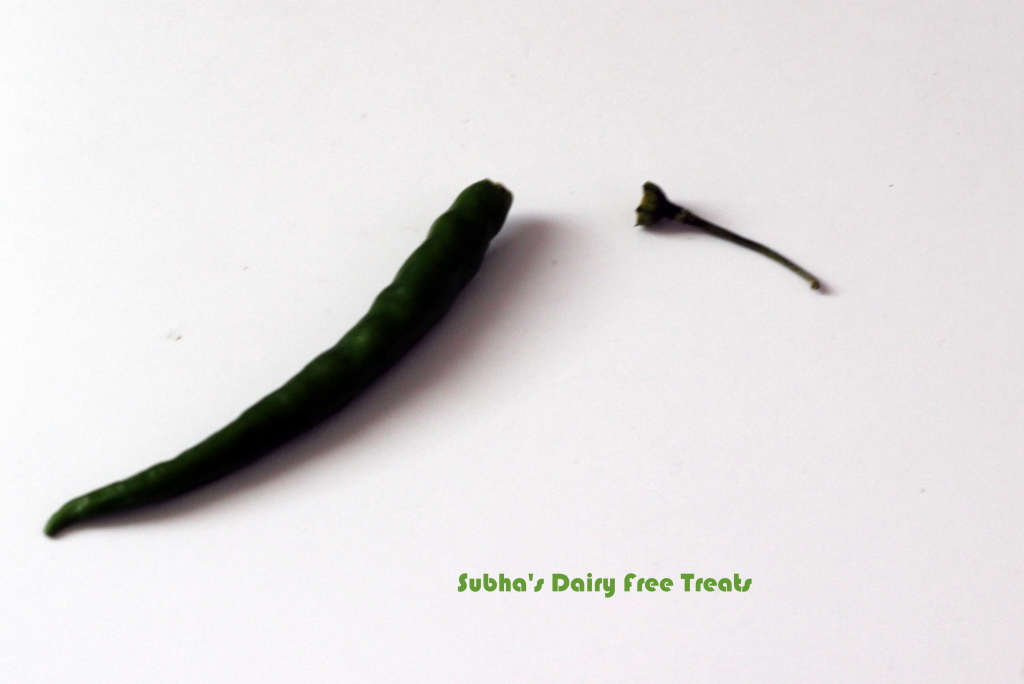 This yoghurt has the same taste as dairy milk curd "which has just been set". It is not sour. But when used in dishes, you cannot even make out the difference and would feel that you are having yoghurt made with cow's milk. I am not joking. I added a little black salt and made a Lassi. My husband thought that it was the normal Lassi. I added ginger, curry leaves, green chillies and salt and made a Sambharam. It tasted just the same as the normal one. I used it in various chat preparations and a lot of other recipes. I am struggling to find words to describe how amazing it is.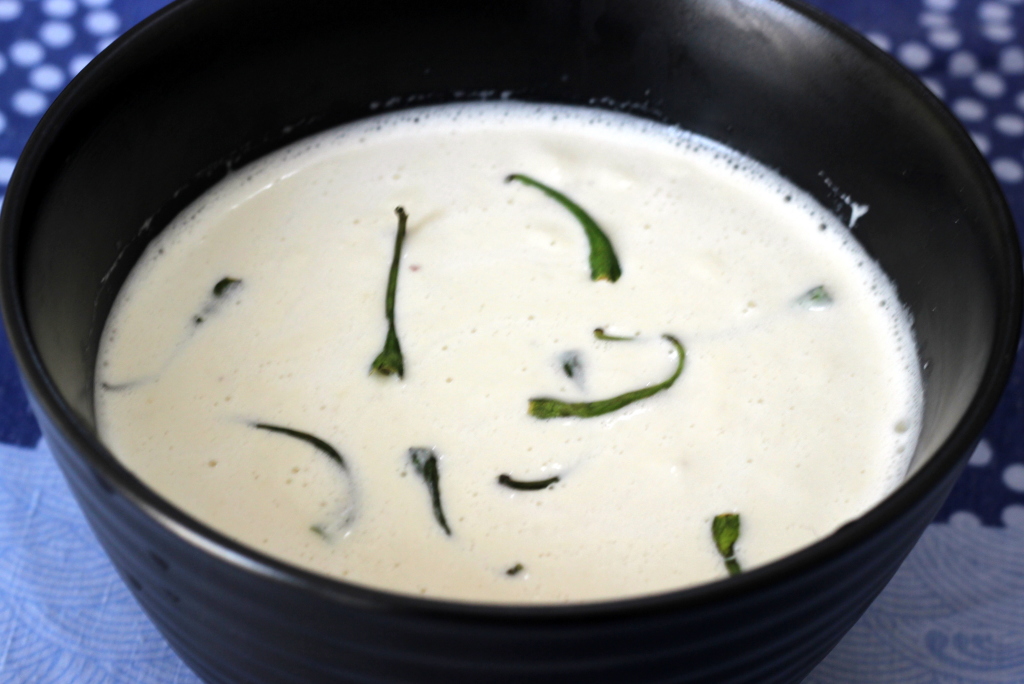 The recipe is so simple.
Soak 1 cup of plain cashews in a bowl of water for 4 hours. After 4 hours, drain it and with some water (heated to about 60 degrees), blend it to a smooth puree.
Remove the puree or paste on to a bowl and add the remaining water to bring it to your desired consistency. The amount of water needed is approximately 2 – 3 cups. I added a little less than 3 cups. It is good to make it a bit thinner. You can adjust the amount of water according to your desired consistency. Stir it.
Take about 8-10 green chilli crowns and put it on top of the paste for setting as shown in the picture.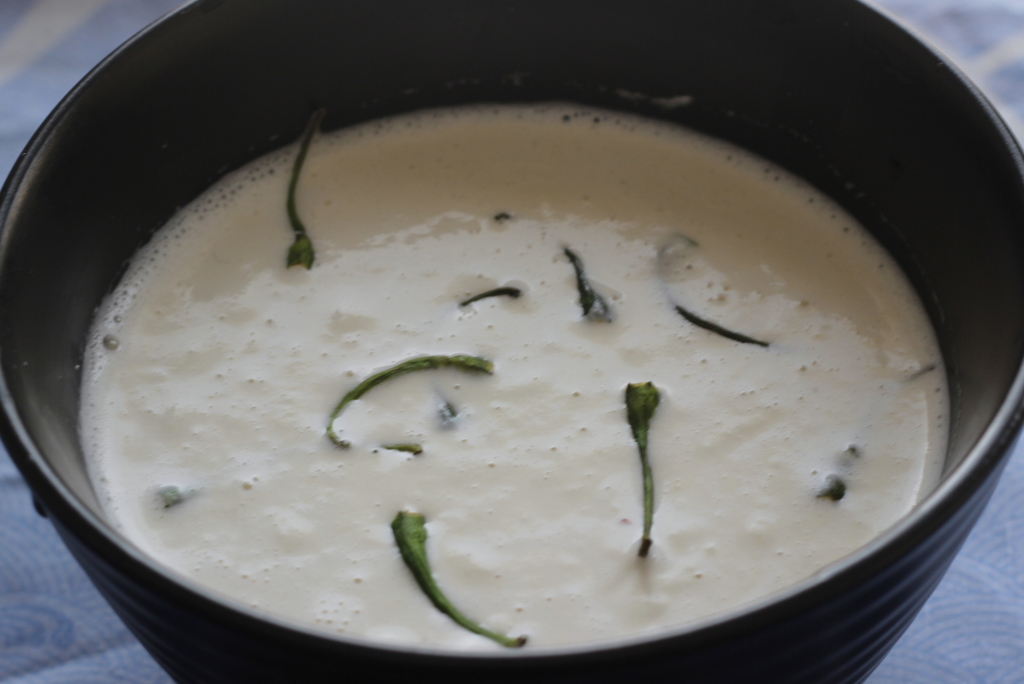 After adding the chilli crowns, do not stir. Keep it at a warm place for fermentation. I covered the container and put it next to my window.
It took about 9 hours to ferment (here, it is the starting of Winter) but it really depends on the climatic condition. According to Harini, it takes about 6 – 7 hours in India during summer. Please check if the mixture is sticky. This means that it has got spoilt. Humidity can be one of the causes for this.
Refer the first picture to see how it looks like once the curd is set. You can also add some lemon juice if you need it more sour.
You can use this as a starter for making the next batch of curd / yoghurt and it will stay good for 5 – 7 days in the refrigerator.
According to Harini, this fermentation is cause by the wild yeast and the best temperature for the wild yeast to be active is around 25 – 30 degrees. It is also important to use non chlorinated water to make this curd as wild yeast will not be active in hard water.
I would strongly recommend you to visit Harini's page to have more insight on this. Here is the link to her page.
Hope you enjoyed my post and it was a great pleasure to share my happiness with all of you..Leave your thoughts on this below and I would love to hear from you…